Graphic Chatter
LAST UPDATE July 9, 2019
---
Spiderman: Far from Home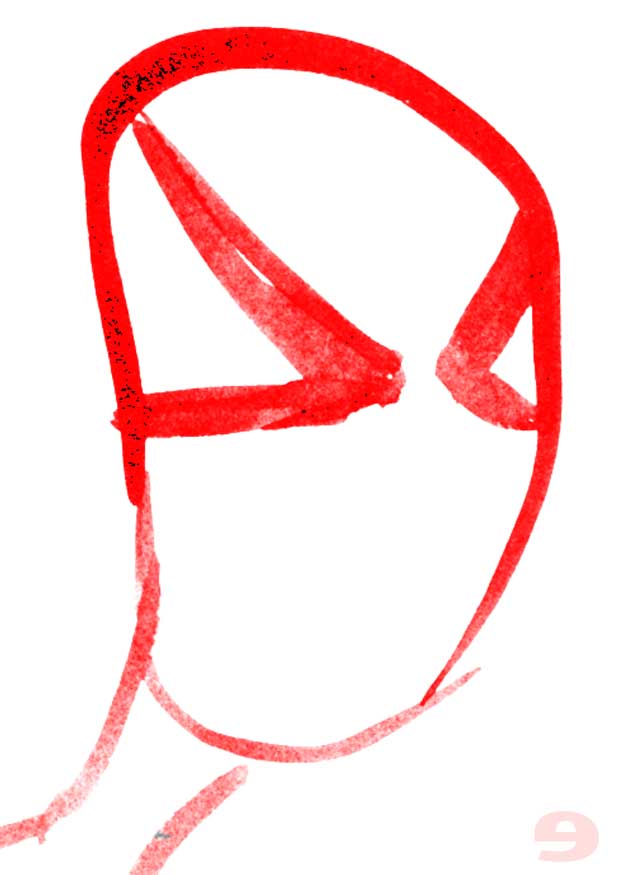 July 9, 2019: It is interesting how this superhero film takes time to celebrate the past assemblage of outfits worn by Peter Parker (aka Spider-Man) in previous Marvel/Disney movies, a celebration of nostalgia serving the story but also re-affirming within the 2 hour, 9 minute movie the powers of nostalgia to bind the audience to the dramatis persona, that is, this franchise of Marvel/Disney films.
There is the irony, though, that the movie Spider-Man Far from Home has illusion as one of the main ingredients of the tale (as most exaggerated through the super-villain, Mysterio, who is a master of illusion as he battles Spider-Man). A great number of things within the tale are not what they appear to be, as if the film is warning us about itself.
---
Poe's Hamlet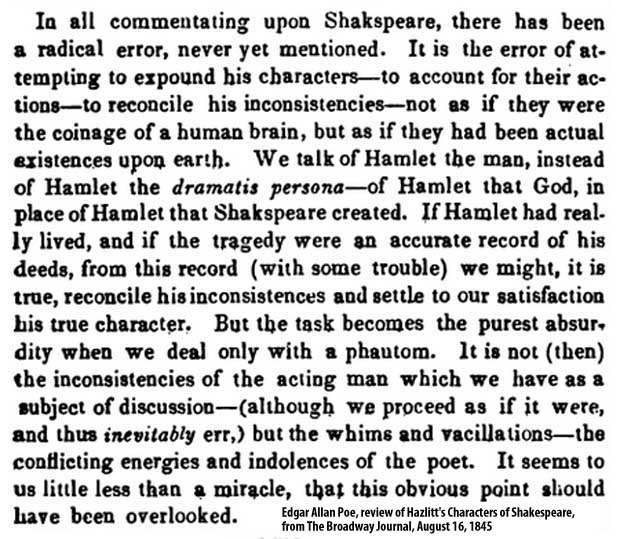 "While on this topic, we may as well offer an ill-considered opinion of our own as to the - intention of the poet in the delineation of the Dane. It must have been well known to Shakespeare*, that a leading feature in certain more intense classes of intoxication, (from whatever cause,) is an almost irresistible impulse to counterfeit a farther degree of excitement than actually exists. Analogy would lead any thoughtful person to suspect the same impulse in madness -- where beyond doubt, it is manifest. This, Shakespeare - felt -- not thought. He felt it through his marvellous power of - identification with humanity at large -- the ultimate source of his magical influence upon mankind. He wrote of Hamlet as if Hamlet he were; and having, in the first instance, imagined his hero excited to partial insanity by the disclosures of the ghost -- he (the poet) - felt that it was natural he should be impelled to exaggerate the insanity."
- Edgar Allan Poe, review of Hazlitt's Characters of Shakespeare, from The Broadway Journal, August 16, 1845
Poe addresses the issue of whether Hamlet is nuts (or not) as Shakespeare's play unfolds, and Poe comes out and says the obvious: Hamlet cannot be nuts (or not nuts) because he doesn't exist, he is a creation on a page, and he cannot be analyzed as a real person, only the author and the author's intentions can be analyzed.
* Poe spells Shakespeare in the original publication as "Shakspeare"
---
Implying the Others
"Jean Rousset's critical scope transcends the boundary of the word. For him ballet, painting, and the lyric, as well as sculpture, tragicomedy, and architecture, are analogous, even interchangeable products of successive, radically different zeitgeists. Shared by all the arts of a given period are repertories of themes, technical devices, and stylistic procedures, each implying the others."
From The Knot of Artifice, by David Lee Rubin, page 4
---
---